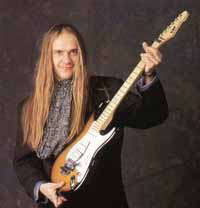 Ronni Le Tekro was born on October 5, 1963. His real name is Rolf Ågrim Le Tekrø. He started playing the guitar at the age of 14. He began by studying classical guitar. The first band that Ronni formed Vandetta in 1980.
TNT was formed in 1982, in the little town in the northern Norway called Trondheim. The original founding members included: Dag Ingebrigtsen (Vocal), Ronni Le Tekro (Guitar), Steiner Eikum (Bass), and Morten "Diesel" Dahl. At that time, there was no market for TNT's brand of music. TNT played the club scene and started getting people's attention. Vertigo records offered them a recording contract. They released their first record self titled record, "TNT." The record featured the vocal sang in Norwegian and was only released in Norway.
In 1983, with a lack of success of the first record, Steiner left the band. A good friend of the rest of the band, Morty Black (b) replaced Steiner.
1984 saw the exit of Dag Ingebrigtsen (v). In May of that year, the band received a tape from a singer from a local band in New York called Jackal. His name was Tony Harnell. The band was keen on bringing Gary Barden (ex. MSG) onboard as the new singer, but decided to go with Tony 3 days before they were going into the studio to record their second album. With Tony onboard Polygram signed TNT to an international deal.
Later that year, they released "Knights Of The New Thunder." To pursue the image of a Viking band, Tony Harnell was listed as Tony Hansen. At this stage Tony only added his vocals to already recorded tracks, he provided little input to the bands second record. With a new record sounding better than the first album, they signed with Freefall Production a management company based in N.Y. They toured the East Coast of the United States. Meanwhile in Norway they were already famous and sold out all their shows during the Norwegian tour.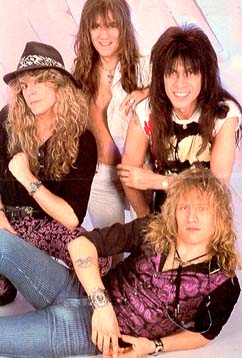 "Tell No Tales" was released in 1987. Songs on this album were very different from their old ones. It was a great hard rock album with sophisticated arrangement and strong hook lines. Songs featured Tony's high tone voice, such as "10,000 Lovers (In One)" and "Everyone's A Star," were played on radio in US and the band supported Stryper and Loudness during their West Coast tour.
Do to differences with Diesel and Tony, Diesel left the band after the tour had ended. Later TNT welcomed Morty's old friend, Kenneth Odiin, who engineered the recording of the "Tell No Tales" demo, as the their new drummer.
TNT wins the Spellemannspris award (sort of like Norwegian Grammy Award) in 1988.
1989 saw the release of "Intuition." With the help of the producer Bjorn Nessjoe, "Intuition" became classed as one of best hard rock albums of its time. The harmonies, clearness and dynamism were a prime example of the great musicians that are TNT. The title track "Intuition" started selling in Japan first. "Intuition" became a hit in Japan and they toured in Japan in August. They taped one show in Tokyo and released it as a live video, "Forever Shine On," in 1991.
After Japanese tour, Kenneth Odiin left the band. Personally he was having hard time being away from his family. At that time the band lost the record deal with PolyGram. Big sales of "Intuition" in Japan and Norway but nowhere else didn't satisfy PolyGram (even though PolyGram didn't promote Intuition well).
In 1991, TNT was supposed to be writing for their fifth album but was not actually doing much. Morty formed a cover band of Thin Lizzy and later Ronni joined. They were called "Bad Habitz" and they released the single "Johnny The Fox Meets The Jimmy The Weed".
In 1992, TNT began looking for a new drummer and had begun writing songs for a new album. The band realized that there was no better drummer than Kenneth in Norway, so Tony contacted Joe Franco (the drummer for Twisted Sister). Joe introduced the band to one of his students named Johnny Macaluso. Atlantic offered a TNT a recording and the band released their fifth album "Realized Fantasies." Although the quality of this album was not that bad, it was different from "Tell No Tales" or "Intuition" and didn't sell well. Tony who lived in New York and wanted to succeed internationally versus Ronni who lived in Norway and was satisfied with success in Norway didn't get along at this point and the band announced a break up.
After the Japanese tour, TNT disbanded. John Macaluso after leaving TNT went on to join Riot. Bad Habitz recorded their one and only album "Bad Habitz." They toured throughout Norway more than TNT had done in the past.

Ronni and Morty formed a new band "Vagabond" in 1993. Vagabond introduced the world to the vocal talents of then unknown Jorne Lande.
Vagabond released their first album, "Vagabond," in 1994. Vagabond's sound was nothing like TNT, it was more progressive and left many TNT fans unhappy with Ronni's turn in musical direction. Later that year Ronni teamed up with a Norwegian jazz guitarist Terje Rypdal with Morty, Steiner Skaget (drummer of Vagabond), Dag Stokke (keyboard player for TNT, Vagabond) and released an album called "Rypdal & Tekro."
Vagabond released their second album, "A Huge Fan of Life," in 1996.
While TNT fans were waiting for a reunion, PolyGram released "Till Next Time (The Best of TNT)" in Japan. In July, TNT announced a reunion after a 4 years break up. The lineup once again featured TNT key players Tony, Ronni, and Morty plus Dag Stokke (k) and Frode Hansen (d) filled in as support musicians.
On New Year's Eve, TNT appeared on Norwegian TV and played some songs from their upcoming album "Firefly."
In January 1997, "Firefly" was released in Norway, then in February in Japan following the release of the single "Daisy Jayne." In April, TNT began a tour of Scandinavia and continued the tour in Japan where they sold out all the shows. In September, Tony left TNT to pursue his solo career. The band was writing songs for the next album, but obviously they were forced to stop. In November, Rypdal & Tekro released the second album, "Rypdal & Tekro II."
In September of 1998 Tony rejoins TNT after a year in hiatus. In October, Ronni and Tony spent some time in Spain to write songs for the new album.
Ronni's solo album "Extra Strong String" was released in Norway and then in Japan.
1999 TNT finished recording, mixing and releasing their next album called "Transistor." This CD was another musical departure from the traditional TNT sound. Rumors of a compilation album called "Big Bang," surface. The album is supposed to feature hits from "Knights Of The New Thunder," "Tell No Tales," "Intuition," "Realized Fantasies" and "Firefly" as well as some out takes. The record is released at this time.
In 2002, Escape Music signs Ronni Le Tekro to a solo deal and rerelease Ronni's solo CD "Extra Strong Strings."
TNT announce that the will enter the studio together and are signed by Z Records. Ronni appears on Boston Tribute album "More Than A Feeling"
Ronni appears with Westworld at Zrock 2002.